ASHLEY CECIL
Ashley Cecil is an artist and illustrator specializing in paintings of flora and fauna. Her love affair with all things organic and wild has blossomed as the result of studying landscapes with accomplished master painters in London, immersing herself in vast collections of floral textile prints in European museums, painting from live observation at Phipps Botanical Gardens, geeking out on plant science research, and collaborating with top-notch floral designers.
Her fervor for painting has landed her some pretty amazing opportunities including participating in internationally renowned arts festivals, launching a line of home decor and fashion accessories, creating artwork for the label of a libation consumed by millions, and talking face-to-face with President Obama.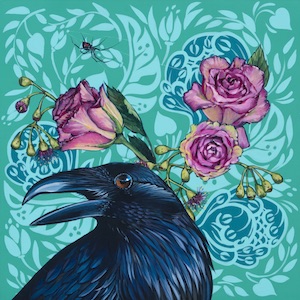 "Raven on Teal," acrylic on board, 12" x 12"